Tall Tine 8 Point
Lee arrows big massive 8 point.
Jet Sled In Use
Jet sled is the dragging method most used here as you see this big buck being hauled out!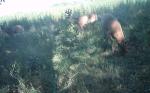 Late August Get Together
Summer time fun as these bucks have found something they like. Late August early September these bucks are not long before they go in their own directions.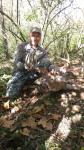 Buck Of A Life Time
Paul Takes largest buck of his life when his arrow found its mark on this true monster buck! Paul was setup inside a thick area of the timber and this buck presented him a close encounter that Paul won.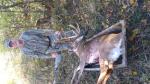 Hauling The King!
Don helping Paul haul his huge buck from the timber. The big monster would have a dressed out wt. of 240 pounds!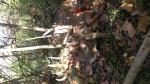 MONSTER DOWN!!
These big giant bucks don't come along often but Paul is proving passing lesser bucks sometimes pays off.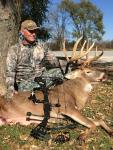 DREAM FULLFILLED
Paul enjoys photo shoot with a true monster buck the big brute dressed out completely tipped the scales at 240 pounds and gross scored B&C.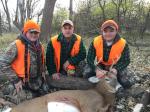 PROUD MOMENT FOR ALEXANDER FAMILY
Alexanders Dad share a great moment with his two son as his son takes buck during his hunt. Youth hunters are not held to the standards of the camp. Great job!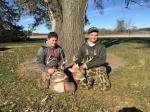 YOUTH HUNTERS GET IT DONE!
Alexander Boys both score as youth hunters they do not go by the camp standards on antler requirements. Both boys and their Dad and Grand Father had a great season adding another buck and two doe.