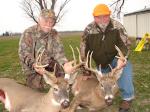 Two 4 Two On The Same Day
Two great friends & hunting partners enjoy the thrill of harvesting two good bucks on the same morning. Chan & Russ smile and rightfully so as they hold the frosting to their hunt. These two hunters truly know how to enjoy hunting with or with out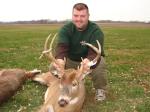 Another Buck For My Wall
Another good day in the timber for Jayson as he and his Dad would both score on good bucks here at camp in 2011. Jayson and his Dad are planning to return in 2012. His Dad will be on his 4th trip into camp while Jayson will make it number 5.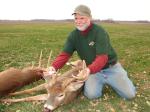 Just Love It When A Plan Comes Together
Robert grabs on and holds tightly to his great buck he and his son Jayson both managed to score making the hunt that much more special.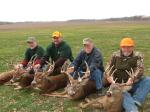 Always Nice To Be In The Line Up
This group of 4 happy hunters would grow to 9 before their hunt would come to a close. With the 5th. and 6 bucks already down and more to come.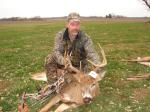 It Is A P&Y
Jeff holds on to his P&Y buck he worked hard to arrow right down to the final two days. The buck showed no sign of being hit when Jeff released the arrow but after wondering how he missed he would climb down to retrieve his arrow and discover he had i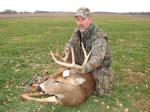 One For The Books
Jeff enjoy the monster P&Y and the pressure off as he will now looks to pull off the double picking up his muzzle loader in the next few days.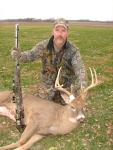 Muzzled
Jeff scores again on this nice muzzle loader buck making him two for two. It is no easy task but it seems every year 1,2 or 3 hunters manage to pull off the double and it was no surprise when Jeff joined those who have done it in the past.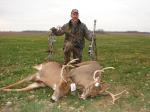 Jeff Pull's Off The Double
Proud hunter Jeff Baker stands behind his two awesome bucks completing his mission of not only harvesting a monster P&Y but adding a great muzzle loader buck as well.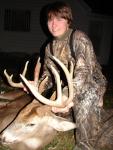 "Never Over Till Season Ends" Concluded With A MONSTER!!!!
It just don't get better as youth hunter Tad Kilbury score on a monster buck on the final day of his hunt and actually in the final hour. Youth hunters continue to show seasoned hunters that its not over till the hunt ends. It is my understanding that Tad