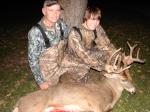 Most Cherished Moments In Hunting Camp
Tad & his Dad (Paul) share a rarer moment with Tads Monster. Not a bad season with both hunters taking home trophy whitetails and surely Paul was really happy to have the chance to share in his son's accomplishment. The youth hunters would again end t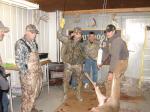 All Deer Get Weight & Score as well as aged
Several of camps hunters take part in stories as they get ready to lift up yet another trophy buck. The season ended with a rush of harvest and only seem to be improving with each passing day. As happen last year the gun season got better each of the thre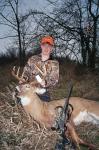 Easton Pushes Youth Hunters To "Perfect Season"
Easton one of three youth hunters in camp during the 2011 season was the last to harvest his awesome buck doing so with about 20 minute remaining in his hunt. Easton pushed the youth hunters to a perfect season of three for three and the young guns contin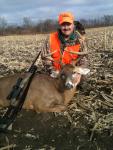 Burkart Rules 2011 Late Season.
First year at his OUTDOOR PARTNERS camp Rob Burkart score on a monster buck. Rob said he shot the buck at 75 yards and watched him fall with in 50 yards. While the hunters were seeing deer the shooter bucks were eluding them but not this brute! Con-grads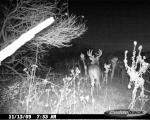 Click twice on this photo to get a better look
We all know at night they are up seeking doe at night thanks to one of the hunters for sending in a trail photo or two.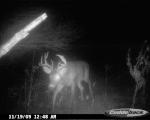 Click twice on this photo to get a better look
This great bucks get caught on trail cam. These big bucks are known to travel quite long distances from one farm to another during the rut. We have farms that are 2 / 3 miles apart and some of the same bucks will show up on them and I'm quite sure a few t
Past Him Right To My Wall
Jeff Holds his P&Y buck for a photo session in the timber. Jeff is a long time member of the camp and killed this great buck with two days remaining in his bow hunt. Jeff had past on other bucks during the hunt but with time running out this guy was n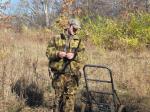 Oh Yes I Remember This Part All To Well...
Easton looks like he is trying to get mentally per-paired for the hauling out Dads big buck. Course a few days later rolls would reverse when Easton killed his buck and made sure it was a little harder job getting his out...Take that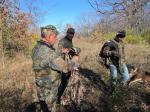 If We All Stand Around Long Enough Maybe He'll Drag Himself Out
This group of hunters seem to be enjoying them selves before they start to haul the big buck from the timber.