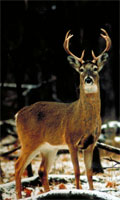 Outdoor Partners is a licensed whitetail deer and turkey outfitter located in Augusta, Illinois. Outdoor Partners offers deer and turkey hunting on private lands in west central Illinois. We have hunting areas in 4 counties (Adams, Schuyler, Hancock and McDonough)
If you are looking for a hunt with an outfitter who knows good habitat, knows deer management and knows what a quality hunt is, then you might be looking for Outdoor Partners. I am Jason Ippensen, outfitter and owner of Outdoor Partners. I was born and raised in the area that we offer hunts. I have spent my life pursuing quality hunts for all types of animals and have learned much about the type of hunts offered by outfitters. I have hunted trophy animals and managed properties in this area for many years and believe we can help you be successful at having a quality hunt.
Outdoor Partners takes pride in having only quality areas to provide hunts. All of our properties are a combination of woods and cropland, providing an ideal habitat for deer and turkey. We not only provide you a place that is ideal habitat , but also a place that is managed for every aspect of a quality hunt. We believe that good habitat is the first key to producing trophy animals and that second key is having only ethical hunters enter that habitat. We manage all of our areas for a complete trophy experience.
We believe that low hunting pressure is the key factor in keeping trophy animals on our properties. We keep the number of hunters accessing each property very low compared to other outfitters. We are more concerned with each hunter having an opportunity to see and harvest trophy animals than seeing how many hunters we can provide a hunt. By keeping hunting pressure to a minimum, we have a high hunter return rate.
We are constantly trying to make our operation better. Acquiring new properties and effectively managing the properties we have are steps we take to increasing opportunities for our hunters. Our success as an outfitter is directly related to having good properties and good hunters. We do everything we can to have good properties so we expect you to come prepared to be the best hunter you can.