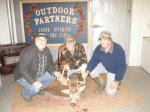 You Can't Put A Price On This
This Is What Our Camp Is About Mike, Dennis & Devin share a great moment that will last a life time when Devin became the first youth hunter at camp and the first to score and he did him self proud taking down a great buck this just missed P&Y. Mi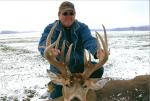 Chuck And His 200 Plus Inch Buck (Management Program Thumbs UP)
You can not put a price on it they are next to unkillable and they don't have them in many places but here is the fact our / your camp produces world class bucks. Chuck harvested this true MONSTER in 2009. And while no less than 7 hunters on 4 different f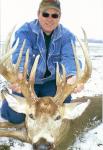 Another Photo Of MR.BIG
This MONSTER should be shown more surely a true world class buck. Chuck killed this Monster during a late season hunt.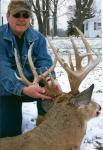 Another View Of Mr.Big
Another shot of A MONSTER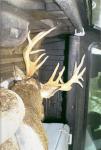 200 Inch Buck Loaded & Ready To Roll
Chucks 200 inch Monster going for a ride.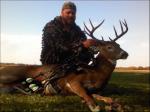 Mike Hoy bow buck
Mike first trip in to his Illinois camp here at Outdoor Partners produced some great action and this nice trophy in the third week of October the start of what we at camp call primetime! Mike is returning in 2010 with a new group of 6 hunters with 3 of th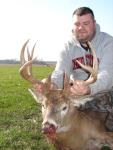 He Did It !
Jayson still looks like he can't believe his accomplishment its true Jayson and by now he is on your wall and most likely all eaten up.Jayson was on his second hunt out of his camp here at Outdoor Partners with three hunting partners that were all a lot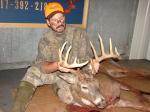 Todd & His 12 Point Monster Buck
Todd score on a monster typical 12 pointer in 2009 and misses the 200 inch monster killed later during late season by Chuck. Todd had a Two for Two season harvesting bucks during his bow and gun hunts. He will return in 2010 for his 9th season.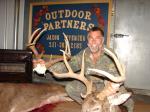 Bruce all smiles as he takes home two
Bruce one of those really likeable guys and all around pleasure in camp. He is all smiles as his combination bow and gun hunt produced two awesome bucks. Bruce had harvested his largest buck ever out of camp a year or two earlier. We'll all miss him in 20