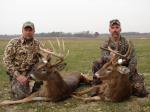 Big BUCKS Down
Tedd & Jeff share that awesome feeling of joining together on a great day for a photo with two hunting friends and two awsome bucks. These bucks are both ture monster with Teds being a true B&C class buck and Jeffs was the largest dressed out buck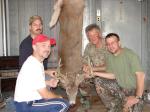 Friends
It's about friendship and enjoying the greatest sport in the world trophy whitetail hunting at its best.These guys showed up and did it their way and enjoy the trophy that was a result.
Two for Two
Gary after a combo hunt bow and gun would have an addition for his wall.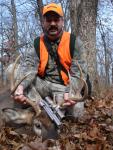 Hand Guns Can kill
Todd took this nice buck during the first gun season using a hand gun. Due to all the laws and restrictions not only in Illinois but the states you drive through Todd elects to use his MUZZ. now. Todd has hunted out of camp for a number of years and has h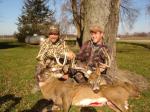 Father and Son Moment Frozen In Time At Camp
Here is a perfect photo of what our camp is about Tedd & Tedd first hunt out of camp and they both score the largest bucks todate. Dad would return the next year and harvest a B&C while Teddy JR. would miss a really nice buck. Both of these hunter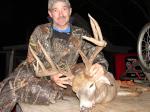 October Hunter Produces Big Bucks Ron Is The Man
Meet Mr. October the hunter who made late October hunting come alive. Ron another of the Vermont boys simply came into camp with his hunting buddys and got to work in October and when they left a farm or two was missing a big buck! Ron is one of the most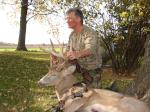 Dave holds His October Monster
Dave and his awesome buck. The buck was taken around noon in October on a warm 70+ day. Proving being on stand is the best place to be during your hunt!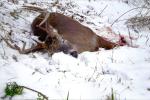 Big Buck down On The Snow At camp
Big buck down in the snow at camp. While the snow is unlikely at least through the first gun season by Thanksgiving week things can turn cold and snow can come. This hunter harvested this good buck on a cold snow filled day in the what we call the late se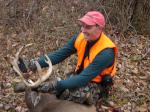 Big Buck Down
Paul is quite happy he pulled the trigger after taking over an hour to make his mind up on this brute.