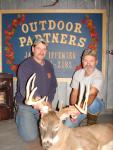 Dolor Goes Two for Two
Can you say happy hunter here Dolor and Owner Jason hold on to what would be one of two true monster bucks Dolor would go home with on his combo bow and gun hunt. Dolor was hunting on one of our smaller farms when he arrowed one of his two bucks at noon h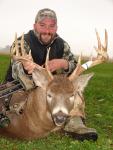 Elk Foundation Bid winner wins again
Chris on his first hunt out of camp he won hunt on a bid through the Elk Foundation. Chris was great to have as part of camp he return the next year and harvested his second buck in as many years and while he has not yet booked for 2010 were hoping to see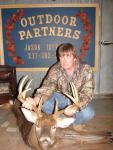 Dennis Adds Yet Another True Trophy To His Camp Collection
Dennis adds another buck from camp to his wall. Dennis and his hunting partner are both long time hunters here at Outdoor Partners and I personally look forward to our time each year at camp. Not only are these boys hunters but they know how to hunt hard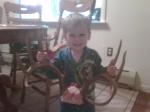 Daddy Rack
Mike Hoys Boy proudly displays Dad's Trophy antlers after Mike returned home. Surely a future OUTDOOR PARTNERS hunter!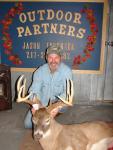 One hunters Dreams Are Over filled two4two
Dolor and one of his two bucks. Yes if your on a combo hunt you can harvest two bucks. Dolor was unable to harvest a doe as the days he tried he said he only had bucks in range.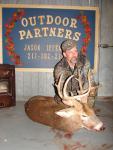 One Hard Hunting Etical Hunter
Jeff and a great buck he took on one of his hunts out of his camp here at Outdoor Partners. I think this is the buck Jeff was unsure if he wanted to shoot but when it came in right under his stand he could see the buck was badly injured and decide to take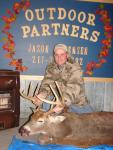 Paul Enjoy Harvest
Paul is all so a great guy if your new in camp and he is there always a pleasure to spend some time sharing storys with this long time member of our camp here at OUTDOOR PARTNERS. Paul sets his standards above our camp requirements as many return hunters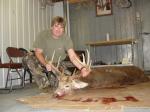 Dennis Arrows Yet Another Monster Buck
Dennis is all smiles as he holds yet another trophy buck he harvested at camp during his 7-day bow hunt. Dennis has harvested 4 bucks in his 5 season hunting out of camp and will look to add another come fall of 2010.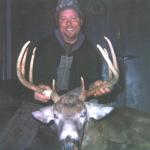 Late season Produces
Trevor and his late season buck.