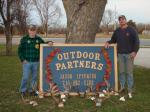 2012 Owner Right and Gary Left stand with sign and some racks
2012 Season Click to view photos.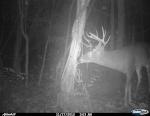 2012 cam buck
Trail cam nice buck and his rub
2012 camp cam buck
Buck slipping through the timber.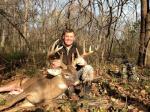 Pete Frustration Ends With Great Buck
Pete Takes down Monster with frustration setting in while seeing deer unable to get a shot on a good buck for a few days. Finally it all comes together for Pete and he and his partners would both score.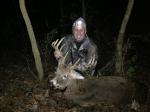 Zeke All Smiles After Connecting On Great Buck
Zeke starts season off by bring down a good buck and recovers him after dark. After seeing some good activity but not closing the deal in 2011 Zeke will have a much better ride home here in 2012 with his hunting partner scoring as well.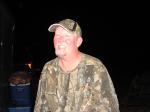 Looking Happy Don Whats Up?
Don looks really happy and likely for good reason! He is really loving the fact he has his own hunting ground to scout and hunt here at camp. It makes a world of difference having the chance to setup and hunt your way.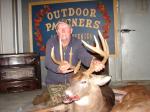 First Bow Kill Ever No Longer Rookie
Don with his first ever bow kill making P&Y and dressing out at 215 pounds. What is he going to do next season now that he has this bow hunting thing down pat? Don all so missed a big buck during the 3-day gun season. But I'm guessing while he would h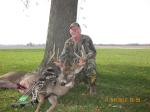 No Longer A Rookie & Loving It!
Don looking pretty darn good you have now lost your rookie stripes. Don started his bow hunting career off here at camp two seasons ago. He missed two bucks that first year and did not release an arrow last year but right off quick in 2012 he goes in the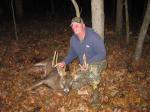 Don In The Timber
215 pounds dressed and well into the P&Y buck I'm not really sure Don knows what he has accomplished here in 2012. But one things for sure Don is now truly a bow hunter and we'll see him around camp for a while nice job my friend.