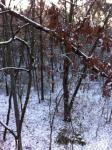 Strange Season First Season Ever Snow Covers Ground During Prime Time Bow
Signs Of The Strange Season! In the 15 years of Outdoor Partners this was the coldest season by far. It was the first time we actually had snow stay on the ground. We had tornado warnings and really high winds, heavy rains but through this the hunters man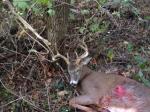 First Hunter In Arrows Buck Season Rolling To Record Harvest
First was the call of the day as first year hunter with Outdoor Partners Keith Betourney on his first day of hunting his new farm arrowed this nice buck.Awesome start to the season here in October bucks chasing.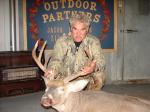 Bloom Blind Side Monster Buck Early In Season!
Steve Bloom Takes down Monster buck day 3 of his hunt he had seen 9 bucks and This was Steve first year bow hunting out of camp. Steve harvested the buck from his ground blind. The big buck dressed out at 210 pounds.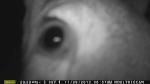 EYE IS ON YOU!!
This deer is really keeping an eye on you!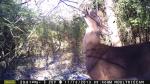 Return Buck
This little buck showed up so many times and he seem to always go to this branch.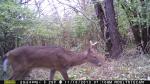 Small Buck On The Move
Another Small buck on the move.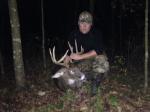 Opportunities Knock Sometimes More Than Once
Jason Harvey another hunter on his first hunt here at camp takes down good buck. Jason recovered from an earlier miss to finish off his hunt with a nice buck.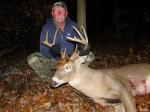 Better To Get Late Start Than No Start.. Don Loving His Bow Hunting Here At Camp!
Don Leblanc Started his bow hunting career here at camp just three short years ago. His first season he missed two big bucks, in his second season he killed a great P&Y that dressed out well over 200 pounds! Here in 2013 he has arrow his second buck i
Hunter Grab Photo OF His Buck
Big Buck Down At Camp!