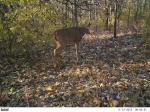 Big Buck Walking
Nice buck on the move sure the hunter who had this cam out wishes he was there when the photo was taken.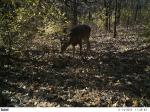 He's Back
Can you say nice buck heavy mass, what will he be like next season and will someone bring him down?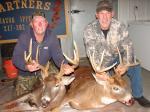 Don and John The Photo Session All Hunters Want
Don & John both scored early and both got the monkey off their backs with monster bucks! john has had many chances to harvest bow kills in the past here but always manage to have an issue and sometimes elected to pass no more he closed the deal on a g
It Don't Get Anymore Exciting Than This Harvest
Talk about hunters getting the monkey off their back that was the theme for the 2012 season as Lee would be the third hunter to do so when he'd arrow this buck on a day with 20 mph winds. Those winds likely aided his awesome stock on the ground on this gr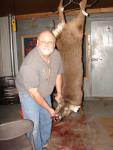 Mr Doe Slayer Is Freaking Nuts!
Mike known as the doe slayer here at camp by all the hunters currently leads the doe pool that awards the hunter who shoots the largest doe $450 off the next season hunt. Mike has likely harvest 3 times as many doe as any other hunter that returns each ye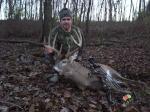 Marcel Kicks Some Monkey Ass In 2012
Marcel the forth hunter to kick that MONKEYS ASS! Marcel had taken two shots in 2011 and like many other's missed but he gave that Monkey one good ass kicking here in 2012 when he scored on this awesome P&Y.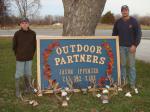 Outdoor Partners Family
Jason and his son Lane with Outdoor Partners sign.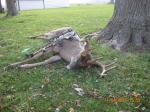 Big Buck Left Alone Monkey Gone For Now!
Big buck with out his killer? 2012 prove to be the season where several hunters kicked some Monkeys Ass! One by One hunters kept taking that monkey off their backs and giving it a down home ass kicking! Con-grads To Marcel, Lee, Don , John and Mike for ge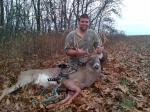 SNEAK ATACK BRINGS RACK!
Lee Puts The sneak On His buck during a really windy day. While moving his stand he noticed some deer in the field and then notice one was a shooter after crawling over 100 yards to with in 30 yards of the buck Lee was able to make the perfect shot.